KKmoon 4 Channel 1TB 1280*720P CCTV Network DVR H.264 HDMI Home Security System Alarm Email
$300.00
Overview:
Our home security system 720P DVR have many uses: the security detection of public places, monitoring for unattended stores and warehouses protection, the parks and rides security record and observation, Safety Monitoring for cottages and residential areas, and other surveillance needs for outdoor/indoor.
This AHD DVR combines the function of DVR/HVR/NVR, supports 4-ch playback(ChannelType is AHDL/960H) and multi-mode input including HD-720P, analog, HD-720P + analog, which provide a great variety of choices for security monitoring and bring you a safer monitoring system. Meanwhile this AHD DVR provides digital zoom, which allows you to get a closer view of record clips, it maximum supports 3TB 3.5″ harddisk(Hard Drive not Included). Finally, you can choose scheduled recording, set motion detection or watch the video on your computer and phone. Easy installation, easy operation.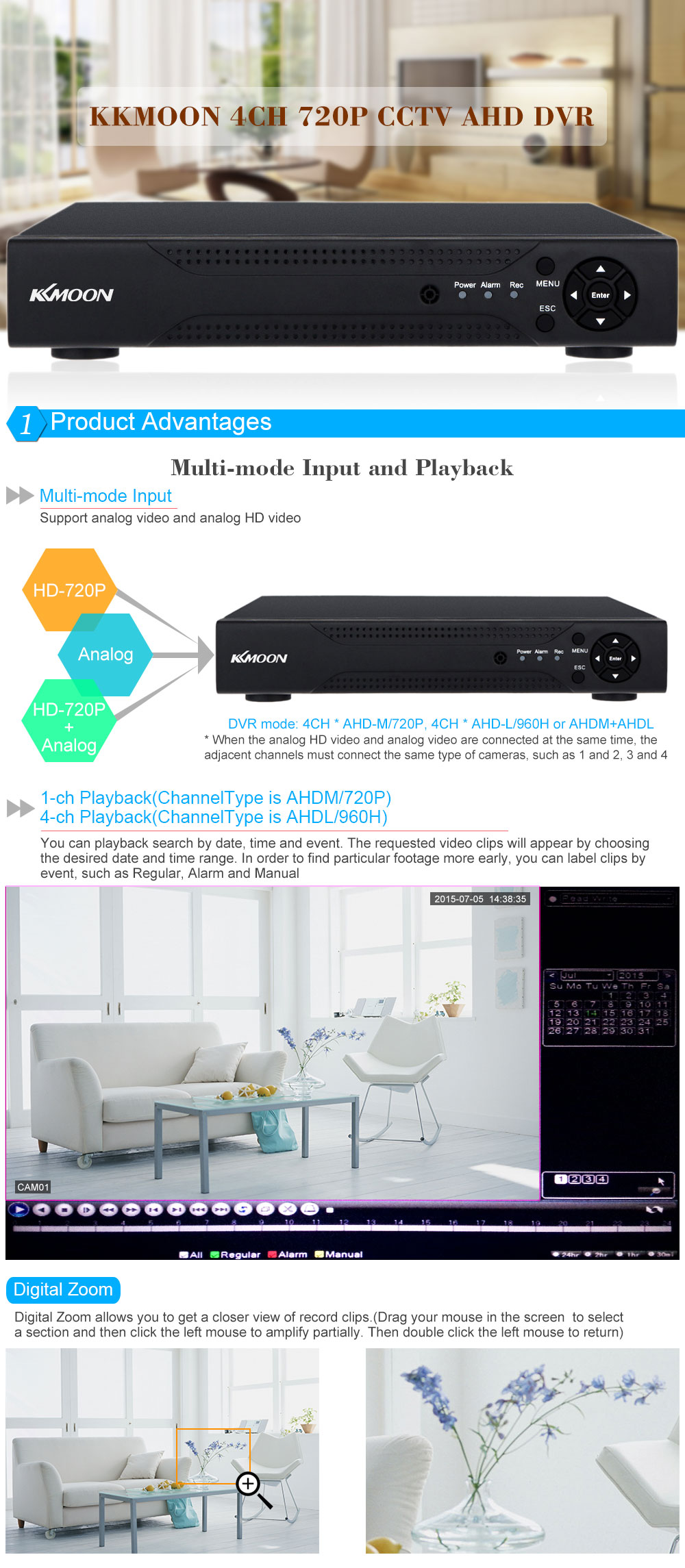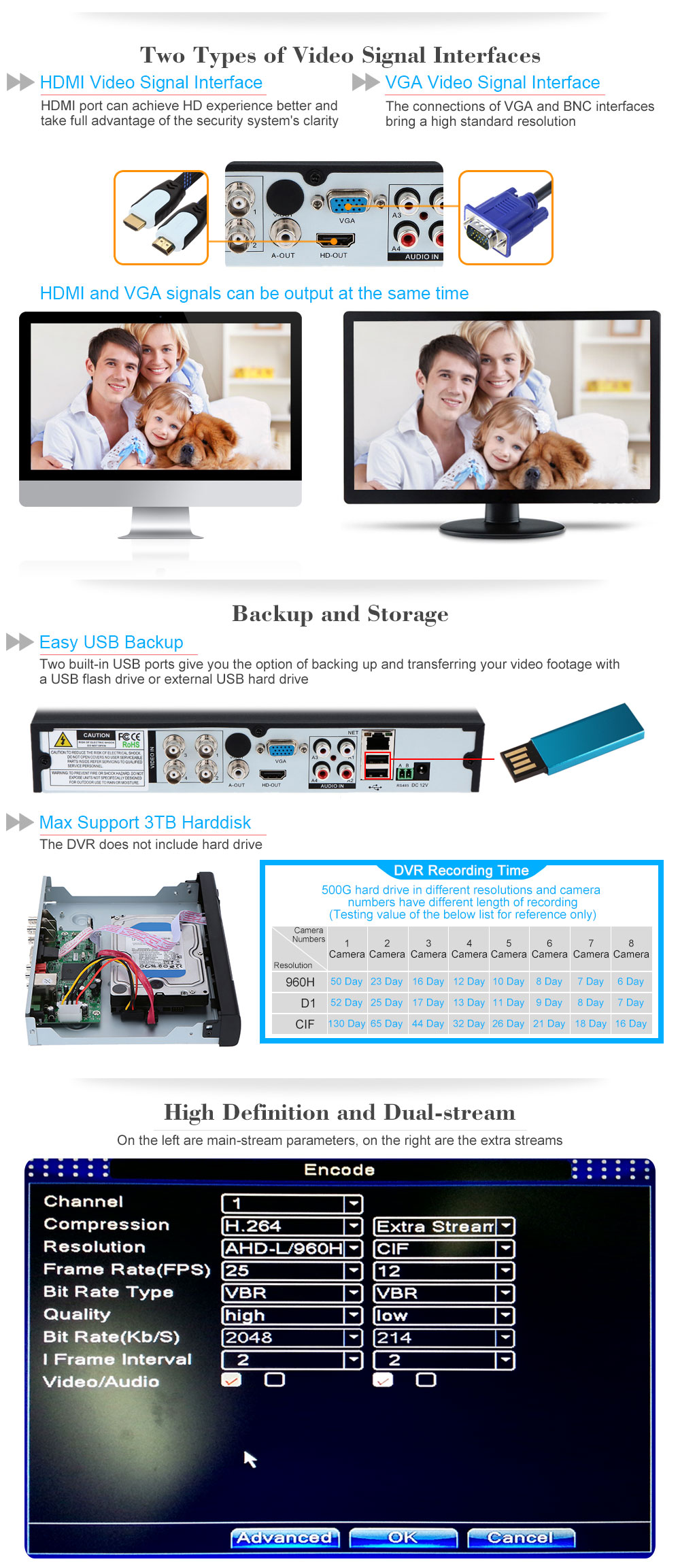 Features:
* H.264 Video Compression format.
* Multi-mode input, digital zoom.
* Combine the function of DVR/HVR/NVR.
* Support pre-alarm recording(before 30 sec).
* Support 1920 * 1080P HDMI and 1024 * 768 VGA output.
* 4-ch video and 4-ch Audio input, 4-ch playback.
* Multi-stream recording resolution and Multiple backup modes.
* Scheduled recording, motion detection.
* With P2P cloud function.
Specifications:
| | |
| --- | --- |
| Model | TP-AHD114 |
| Main Processor | Hisilicon HI3520D Chip |
| Operating System | Embedded Linux System |
| Menu Display | 1/4 Screen |
| Video Compression | H.264 |
| video standards | PAL (625 line, 50f/s); NTSC(525 line, 60 f/s); Switch selectable |
| Video Input | 4-ch BNC(1.0vp-p, 75Ω) |
| Audio Input | 4-ch RCA |
| Video Output | 1-ch HDMI + 1-ch VGA |
| Audio Output | 1-ch RCA |
| Recording resolution | Main-stream: 720P / 960H / CIF / HD1 / D1 |
| Frame Rate | 1/25fps-Real time frame rate |
| Dual Stream | Support |
| Max Playback | 4-ch |
| Code Capacity | 4 * 720P/960H input |
| Analog Mode | 4 * 720P(1/25fps), 4 * 960H(1/25fps) |
| Interface Type | SATA Interface |
| space usage | 720P: 20G/day/ch 960H: 12-20G/day/ch Audio: 691.2M/day/ch |
| Search Mode | Time / Date search, fact retrieval, channel retrieval |
| Capacity | Up to 3TB capacity for each HDD |
| Network Interface | 1 RJ-45 10M/100M adaptive Ethernet Interface |
| USB Interface | 2 USB 2.0 Interface |
| Serial Interface | 1 RS485 interface |
| Backup Mode | Network backup, USB mobile hard disk, USB burner |
| Recording Mode | Manual > Alarm > Dynamic Detection > timing |
| Power Supply | 12V 2A |
| Item Weight | Approx.968g / 2.135Lb |
| Item Size | Approx.25.6 * 23 * 4.6cm / 10.80 * 9.06 * 1.81in( L * W * H ) |
| Package Size | Approx.30.5 * 7.5 * 33cm / 12.0 * 2.95 * 13.0in( L * W * H ) |
| Total Weight | Approx.1254g / 2.764Lb |
| Quantity | 1pcs |
| Warranty | 1 Year |
Package list:
1 * 4CH H.264 AHD 720P DVR(1TB Hard Drive Included)
1 * Power Supply for DVR(US Plug)
1 * Remote Control for DVR
1 * USB Mouse for DVR
1 * Accessory Bag for DVR
1 * CD Software
1 * User Manual
1 in stock